Drain Cleaning
Turnford Pipelines offer a fast and effective drain cleaning and clearing service for works across the Greater London area, for everything from emergency call-outs for blocked drains, one-off drain cleans and full planned drainage maintenance programmes.
Adopting a program of regular pre-planned drainage cleansing and maintenance with Turnford Pipeliness will reduce emergency drain repair call outs and expensive sewer renovation. It means that your drains will be cleaned and inspected regularly, any issues found can be resolved before they turn into major problems. Preventative maintenance is cost-effective, and can be scheduled on a program to suit your business, rather than the headache of a drainage emergency.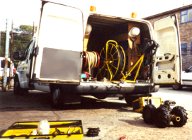 Van Pack Units
Within the Greater London Area our Quick Response Vehicles are able to deal with all aspects of drainage problems and emergencies. Blockages are cleared using high-pressure water jetting, together with follow up investigation incorporating colour CCTV surveys in jpeg format, with written reports to accompany.
Sewer Cleaning
Sewage contaminating your site, causing health issues and environmental problems is one headache you really don't need. Often surface water drains run into the foul sewer system, so ensuring that all the pipes are kept clear of debris and obstructions to keep them free flowing on your site is good forward planning. Routine jetting by Turnford Pipelines is the easiest way to prevent avoidable flooding and blockages in the sewers within your site and makes for good housekeeping and sewer maintenance.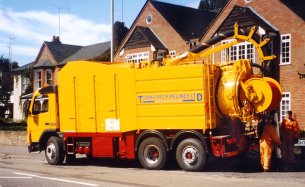 Vactor Combination Units
Our Vactor Combination Units consist of both jetting and vacuuming systems which are capable of clearing blockages and flushing clean sewers and drains from 100mm diameter pipes, to main line sewers taking drainage from multiple properties
Jetting the sewer pipes forces silt and debris forward until it arrives at the next downstream manhole or access point. Here the Vaccumming system takes over to remove any excess silt, debris and liquids that have accumulated into the lorry's debris tank for disposal. This service is also effective for interceptors, septic tanks, chambers and soakaways. A pre-planned maintenance contract with Turnford pipelines is the simplest way to make sure all this gets done regularly, leaving you with one less thing to thing about . Our Vactor teams will visit according to a pre-arranged schedule, check, jet and vacuum the sewers.
With the increasingly extreme weather that has been experienced in recent years and the resultant severe flooding and water ponding Turnford Pipelines can help in the post-flood clean up operations. Highways authorities now use our Vactor Combination Units to maintain their roadside gullies, after needing our emergency callouts service to deal with water ponding and silt debris left by flood water. We make sure that the offending water and sewage waste is removed and disposed of according to waste legislations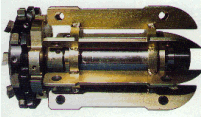 Specialist Nozzles
We use a variety of specialist nozzels on our jetting hoses which can be used for the removal of :-
Heavy fats
Scale
Concrete
Roots
CCTV Sewer Surveying
As both part of our program of preventative maintenance or post blockage sewer and drainage clearance Turnford Pipelines will perform a CCTV survey. CCTV survey technology is the best and most cost effective way to inspect drains and sewers. Regardless of whether you already have a drainage problem or are just keen to avoid one in the future, a Turnford Pipelines CCTV drain or sewer survey is the best way to get an instant, detailed look at the condition of your underground drains.
Using remotely-controlled, specialist camera systems and software to carry out your detailed and accurate CCTV drains survey. Our drain inspection cameras relay images to a mobile van unit, where we store the data to enable us to provide you with a comprehensive written report. During the survey our a technician assesses the structural condition and integrity of the drain or sewer, on the images relayed, zooming in and panning to highlight any issues found. On return to base the CCTV survey is converted to a DVD to play on any PC or TV and a written report is created. In this way problems can be resolved or merely monitored
Ancillary Services
To complement our sewer and drainage cleansing work we also are involved in a wide spectrum of other pipeline and drainage activities including:-
Supply and fix of manhole covers and access points
Other Sewer and drainage remedial works.
Industrial boiler plumbing, incorporating maintenance and certification.